Conference Brochure
Download the conference brochure that gives you a good impression on the atmosphere of the event with the Irish Minister for Training and Skills Ciaran Cannon at All Hallows College, Dublin, 9th October 2013...
Final Conference Dublin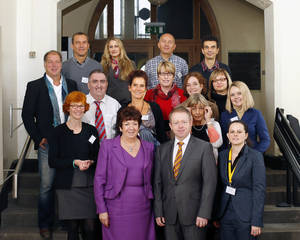 The final conference of the VITA project was held on October 9th in Dublin. It was hosted by the Irish partner AONTAS, the National Adult Learning Organisation and took place in All Hallows College – a historic building with a long history of learning.
The conference gave the opportunity to explain the VITA validation system that the ten partners have been developed and piloted in the previous 20 months. Each partner institution organised local pilots in order to test the VITA system. The pilots covered all educational fields and considered a big variety of competences related to the service economy and are currently being evaluated.
The conference had several highlights…
One highlight was the award ceremony, in which the award winners of the European Award for innovative practice on validating competences were awarded with the VITA prize and had the opportunity to present their projects to the audience. Read more …
The biggest highlight was certainly the visit of the Minister of State for Training and Skills, Ciarán Cannon who presented the pilot participants of the Irish pilot, the Southhill Men's Shed group, with their LEVEL5 certificates on their networking, teamwork and leadership competences that they developed in the framework of the group activities.
In the subsequent panel discussion it was discussed how important social, personal and organisational competences actually are – both in the workplace and in the adult education. It was unanimously agreed by the panel (consisting of representatives of the adult learning sector, the Irish Business and Employers Confederation, the Limerick Community Network and an adult learner) that these competences have gained ever more importance nowadays. This was also taken up by the subsequent address given by the Minister Cairán Cannon.
The Minister addressed the audience with a very inspiring speech, in which he also underlined the importance of improving continuously our competences and skills and expressed very nicely what the VITA partners felt:
"Today's conference is the culmination of two year's work which has been exploring the validation of social, personal and organisational competences across a range of education sectors in ten European countries. These soft skills, as they are often referred to, can be difficult to measure but are a very important aspect of today's global labour market place. Such skills may not be learned in a formal setting but are often acquired in informal settings through day to day interactions – at school, at home, in the workplace or through active citizenship in your local community. These skills have become a competitive factor in the labour market and through this project VITA aims to build a standardised method of measuring these softer skills."