Dissemination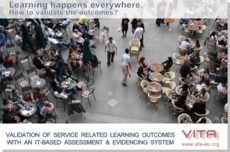 Dissemination has been a high priority of VITA since the beginning of the project. All partners have contributed to the dissemination and valorisation activities. These include among others a number of presentations, (electronic) distributions of information, articles, publications, posters and newsletters as well as dissemination work in their region and country to attract also (potential) project partners from the regions.
Already In the project lifetime partners, associated partners and other interested stakeholders have been invited to join and to participate in the VITA-community. Most suitable for convincing potential partners and users have been face to face events in the European context. The partnership has also actively networked with other networks to spread information about the project and to attract other stakeholders.
Moreover, VITA partners have been invited to present VITA and its validation approach in conferences and workshops at national and European level. It has created curiosity and met big interest among major stakeholders from all educational fields. The major events were among others:
Europemobility, international conference in Paris in November 2012;
GINCO conference in September 2012 in Hasselt, Belgium;
3rd QALLL Conference on Quality Assurance in Vocational Education & Training and Adult Education "Reaching Quality" in November 2012;
Fair "Designers' Open" in Leipzig in October 2013;
VITA final conference in Dublin in October 2013;
Online EDUCA in Berlin in 2013;
GINCO Training & Tools pilot course in February 2014 in Alden Biesen, Belgium.
The VITA partnership organised two conferences in June 2012 and June 2013, respectively. These conferences were addressing the whole "REVEAL community" and experts from different educational domains and had a special focus on the valorisation of the VITA approach and the foundation of the REVEAL network as umbrella organisation (interface to WP10).